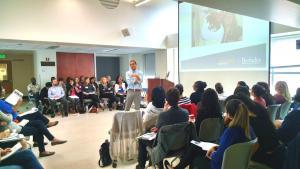 In its first year, UC Berkeley's advisor training and professional development program, Advancing Practice, has made its mark on the national stage. Under the direction of Elizabeth Wilcox and and the curriculum design team, Maire Lanigan, Amber Dillon and Donna Vivar, the program has received the Certificate of Merit for Outstanding Advising Program from the National Academic Advising Association (NACADA). The program has already had wide impact on our advising community and culture and is currently serving as a model for others in the University of California system. Not only does the program impact the quality of our daily advising exchanges, it is helping to shape a new, more informed, vital, resourceful, responsive, and engaged advising community.
Advancing Practice, which attendees have lauded as having a "huge impact on the positive cultural shift of  advising on this campus" and being the "best professional development resource  in  higher education" has helped to create a regular platform for sharing new ideas, methods and resources and has been enthusiastically received by the advising community. The program is widely viewed as a critical investment in advisors and an acknowledgement of the important contributions they make to student progress and development.
This award recognizes several innovative features of the program including:
An elegant design built around a strong but flexible core curriculum that has been tailored to Berkeley's unique advising needs and culture.

The generous involvement of a wide range of talented and dedicated subject matter experts in the delivery of the program including faculty, students and advisors.

The introduction of a wide range of new information, resources and tools that support more positive, responsive, developmental, holistic and student-centered advising.
Other notable features of the program include: a design that appeals to advisors at all career stages and levels of professional preparation; a strongly applied focus geared toward strategies and resources that can be taken directly "back to practice"; and increased opportunities for personal reflection, networking and peer-to-peer learning.
According a recent outcomes survey, the program has been particularly successful at supporting a greater sense of community, interdependence and shared responsibility. In addition, many advisors report that involvement has improved morale. Dispositional shifts have also been reported with significant numbers of advisors reporting that they are more motivated, aware, reflective, open, connect and confident as a result of participation in the program. And finally, the program is having direct impact to our work with students as nearly half of those who have participated in the program report that they are using a new or have improved an existing resource. About 40% of participants say they are more empathetic to students, more attentive to student wellness, more resourceful problem solvers  and make better use of their professional connections and resources as a result of participation in the program.        
We are deeply proud of this award and  our collective efforts to design and launch this program particularly within Berkeley's highly diverse and decentralized environment. We also believe that this program is one of the most tangible improvements to advising, for students, advisors and the community since our change initiative was launched several years ago.