Excellence in Advising Recipients Announced
On behalf of Vice Chancellor Koshland and the Advising Council we are pleased to announce our Excellence in Advising award recipients for 2015. Theseawards recognize exceptional performance and innovation in advising and are presented to individuals and teams who are making a significant positive impact on thestudents and programs they support. Both individually and collectively they represent our best and brightest. We honor their commitment to providing authentically student-centered, inclusive and transformational advising, their focus on collaboration, and their ability to create and innovate. Please join us in congratulating the these individuals and teams,
Advising Council Releases First Progress Report
You're Invited - Excellence in Advising Awards Ceremony
On behalf of the Advising Council, you are cordially invited to join us for our first Excellence in Advising Awards Ceremony. The Council will recognize individuals and teams selected for their innovation
and exceptional impact to students and programs. This is also an opportunity for us to celebrate great advising in its many forms and to reflect on our collective contributions and accomplishments as an advising community. All are welcome to join us for this special event.
Event Details:
Excellence in Advising Reception
Alumni House | December 10 | 4-6pm
Advisors at the Educational Opportunity Program (EOP) apply an "aspirational academic counseling framework" in their work with students.  Aspirational Academic Counseling empowers non-traditional students with a sense of belonging and ownership of their college experience. 
Community Spotlight on Creativity: College of Engineering
Disco Daily Double and New Student Orientation 
Think orientation has to be dull? Think it's not possible to get an auditorium full of future engineers on their feet disco dancing? Think again. Advisors at the College of Engineering created an innovative way to engage students in understanding policy, requirements and resources through a jeopardy-like disco themed game show. This is advising innovation at its best.
Advancing Practice Nationally Recognized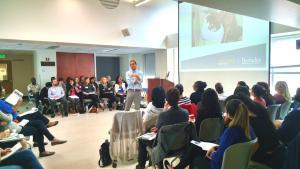 In its first year, UC Berkeley's advisor training and professional development program, Advancing Practice, has made its mark on the national stage. Under the direction of Elizabeth Wilcox and and the curriculum design team, Maire Lanigan, Amber Dillon and Donna Vivar, the program has received the Certificate of Merit for Outstanding Advising Program from the National Academic Advising Association (NACADA). 

Community Spotlight on Innovation: College of Environmental Design
Supporting the Whole Student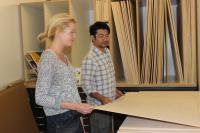 Thanks to a commitment to the whole student experience, Susan Hagstrom and Patty Mead at CED and Fabrizio Mejia and Julian Ledesma at CE3 teamed up to successfully request an innovation grant to support a new materials store at the College of Environmental Design, making it easier for students to access a wide range of design materials needed for daily work. The store provides materials at reasonable costs; eliminates transportation issues for students; provides green, sustainable, and quality materials; and helps subsidize undergraduate fee waivers.
What Does An Advisor Not Do?
We all know what advisors do. Or do we? They help students explore interests, navigate options and opportunities, connect with resources, plan, make decisions, and meet their unique goals. Right!? In the following excerpt, Bob Jacobsen helps define the advisors role by examining not only what advisors do but what they don't.