Excellence in Advising Awards Program 
The Excellence in Advising Awards Program has been initiated to recognize exceptional performance and innovation in advising. A limited number of awards will be made to individuals and teams that are making a significant positive impact on the students and programs they support.
Advising plays a critical role in performance, progress, and engagement and because advising matters at Berkeley we believe exceptional performance deserves campus-wide recognition. Nominations can be made by anyone in the campus community including students. Award recipients will be recognized at an annual ceremony on
February 13, 2020, 4:00 - 6:00 p.m. in Sibley Auditorium
Award Categories:
Outstanding New Advisor (3 years or less advising)
Outstanding Advisor
Outstanding Advising Team
Outstanding Peer Advisor 
Outstanding Advising Administrator, Director, Manager, Faculty Advisor or Dean
Award for Special Performance and Contributions:
The Mary Slakey Howell Excellence in Advising Award - Our Highest Honor - For Exceptional Contributions to Students and the Advising Community 
Criteria: Awards recognize advising excellence and creativity consistent with the Berkeley vision for advising in that they promote student learning, performance, achievement, progress and success, expand opportunities, support engagement, growth and discovery, wellness and connectedness.The selection committee, comprised of past award recipients, is interested in nominations that effectively:
demonstrate positive impact (e.g., learning, progress, performance, engagement) to individuals or student populations
represent an authentically student-centered, learning-centered, caring, and connected approach to advising (e.g., students report feeling seen, heard, and understood as unique individuals)
are innovative (e.g., methods, approaches, tools, programs, resources, etc.)
Submission process: Please write the nominees name clearly at the top of any documents you submit.
1) Complete form linked below. In the form, nominators will be asked to tell us in about 250 words (1 page) why the individual or team deserves special recognition. Please include available evidence of positive impact and/or describe in detail how this person promotes the Berkeley vision for advising and is especially student-centered or innovative (don't just tell, show if possible).
2) At least one letter of support (preferably from a student, supervisor or workgroup leader, faculty member, Chair or Dean.) Letters of support should be attached to the nomination form.
Submissions will only be considered complete if the form and the letter(s) of support are received.
Award recipients will be recognized at a public ceremony in February, 2020. A letter will also be sent to the recipient's manager/Director/or relevant Dean acknowledging outstanding work.
Nomination Cycle
Deadline to submit nominations-- December 13, 2019

Review ---  through January 13th

Awards Ceremony -- February 13, 4-6 p.m.
The Mary Slakey Howell Excellence in Advising Award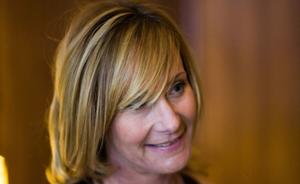 Mary Slakey Howell 1962-2017
The Mary Slakey Howell award for advising excellence is UC Berkeley's highest advising award. It recognizes visionary leadership and exceptional contributions and dedication to the advising community. Mary Howell was a Berkeley alum, front-line advisor, and Director of Student Advising and Policy at the College of Engineering and she dedicated herself to Cal, a place she loved and took pride in representing. Throughout her career she distinguished herself as a knowledgeable advisor, policy analyst, trainer, program developer, and director of advising programs, demonstrating an exceptional understanding of Berkeley's people, policies, places, and complex practices. Most importantly she put student wellbeing and progress first. The many student testimonials at her retirement party told volumes about the lasting impact her care and individual attention has had on the lives of the many lucky students she advised, coached, challenged and supported. This award is a loving tribute to all she accomplished and contributed to making UC Berkeley at better place for students, advisors and the entire campus community.
Recipients of the Mary Slakey Howell Award
2019     Elizabeth Wilcox and La Shana Porlaris
2018     Barbara Felkins and Kay Burns
2017     Susan Hagstrom and Sharon Mueller
2016     Fabrizio Mejia and Julian Ledesma
Remembering Mary's impact.
This video originally presented at Mary's retirement celebration, 2017. Created by Laura Vogt.