Marjorie Ensor, Academic Advisor for the Department of Geography, just won a major NACADA award.  Read more about her philosophy on advising and how she sees her role as a daily privilege.
How did you get into advising?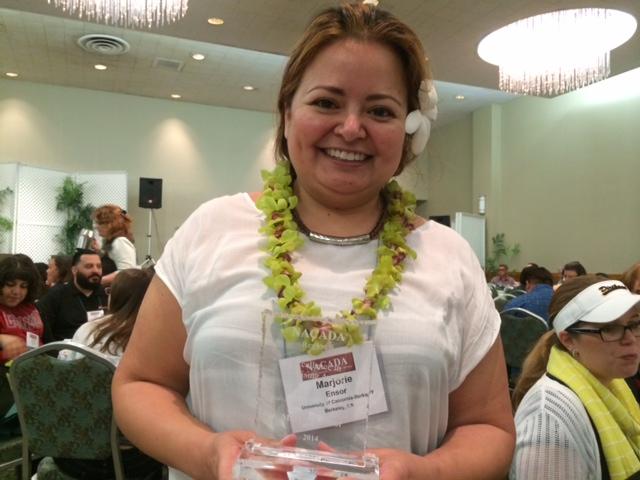 My career in advising was really a stroke of luck. I graduated from St.Mary's College of California with a degree in Biology and Art with intentions on becoming a Scientific Illustrator. I took a job as an Admin assistant to a Dean of Education initially as just a temporary job. But, I soon fell in love with higher education and student services. 13 years ago I applied and was hired as an AA in the Registrar's office in Student Services. It was my supervisor, Jim Collins, who first mentioned that I should consider becoming an SAO (Student Affair's Officer). I believe my response was: "What is an SAO?". He told me he saw how enthused I would get when helping students at the front counter of 120 Sproul Hall and that it would be a perfect career for my strengths and talents. I then accepted an SAO position in the College of Natural Resources and eventually made my way to my current position as an Academic Advisor for both Graduate and Undergraduate advising for the Department of Geography in the College of Letters and Science.
What inspires you?
So much.  But if I had to distill it down to one thing it would be my students.  I consider advising a daily privilege. I have the boon of advising some of the brightest and most talented undergraduates and graduate students in the world. Not only is this an immense responsibility, but I regard it as a meaningful contribution that I make to future academics and society as a whole.   I see each and every advising session as an opportunity to connect students to their goals, and foster growth for my department's mission.   It is an incredible feeling to be such a key person in their lifetime at Cal.
Do you have any tips or tricks to share in working with students?
There is no magic bullet. This is especially true when it comes to education and advising. What might work for one student may be the wrong approach for another. Each student should be treated as an individual and not be given canned or prescribed advice. For an advising relationship to be successful you must consider all factors that might be at play for the student. Including, home life, interest in studying abroad, learning styles or disabilities, extracurricular activities, student athletes, student activism and advocacy to name a few.
Tell us about your recent NACADA award.
My recent award was such a huge honor.  Honestly, I am still in a bit of shock that I received it. The award is given to four "individuals working in primary advising roles who have demonstrated effective advising qualities and practices that distinguish the nominees as an outstanding academic advisor." (See more )
The nomination process for this award was a great learning experience for me. Part of the nomination process asks to include a personal advising philosophy. I had never really thought of writing down my own advising philosophy. It was a new and introspective exercise to think of what my advising beliefs are, and what I value as an advisor. Part of the award is a travel grant to the NACADA 6 Regional Conference held in Honolulu, Hawaii this month. NACADA Conferences are a great way to recharge and collaborate with advisors from all over the region. It helps to see what challenges we share and best practices that I sometimes can implement in my own office. I highly recommend all advisors to join NACADA and attend future conferences/events they hold throughout the year. They should also consider applying for this or other advising awards.
I would be remiss if I didn't thank Geography Faculty, Staff and Students who wrote letters for my nomination.  Their support, I feel, was a big reason why I received this award. Thank you.